Here we are at the start of a new year, so it seems worth taking a look back at the events of 2008. The next blog post will be a look forward at what to expect from chromedecay in 2009.
2008 was an extremely visuals-oriented year for chromedecay. Besides one digital release (Bubblegone's excellent "Record of Memory (Live)") and the Sync08 performance from Bill Van Loo & Joshua Schnable (see photos, video), the public output of chromedecay was otherwise visual.
Here's a quick look back at the chromedecay year for 2008:
January 2008
January 2008 started off strong on the visual front, taking lots of photos.


above: first photo of 2008
Another big development was the beginning of explorations in Processing, the fantastic visual programming environment.

above: processing sketch: many circles v1 (reds)
February 2008
Bill Van Loo contributed the "chicago slow down (el trains remix)" for Canasta's "We Were Mixed Up" remix album.

above: Bill Van Loo programming drums for the Canasta remix

above: a trip to Salt Lake City, Utah yielded an excellent photo-walk!
March 2008
On Friday, March 14, 2008, Bill Van Loo & Joshua Schnable performed at the Sync08 in Ann Arbor, Michigan. You can see photos and video from this performance.

above: Bill Van Loo & Joshua Schnable perform at Sync08
April 2008
Bubblegone's excellent "Record of Memory (Live)" was released in April 2008, marking this talented artist's first release on chromedecay. Bubblegone has performed at events with Bill Van Loo solo and the duo of Bill Van Loo & Joshua Schnable several times, so it was particularly exciting to have him join up!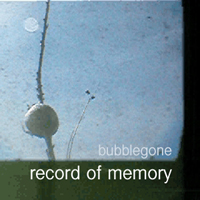 above: artwork for Bubblegone's "Record of Memory (Live)"
May 2008
May saw a studio session with Joshua Schnable, working on new material for future release.

above: Bill Van Loo & Joshua Schnable in the chromedecay studio
June 2008
Continuing the visual domination of 2008, June 2008 marked the arrival of a new camera! Bill Van Loo took delivery of a Panasonic Lumix DMC-FZ18, and quickly began putting it to good use.

above: one of the first shots with the new DMC-FZ18
The real news for June, however, was the wedding of Joshua Schnable! Congratulations, Josh! See photos here and here

above: Bill Van Loo & Joshua Schable at Josh's wedding
July 2008
A day trip to Chicago yielded a new chromedecay video, with black & white footage set to moody beats.

above: "chicago (as seen by car)" video
August 2008
There was lots of photo-taking during the summer months, including more experiments in long exposures.

above: I-94 lightstream
September 2008
Just a few short months after Joshua Schnable got married, longtime chromedecay contributor and supporter Rob Theakston got married in scenic Lexington, Kentucky. Congratulations, Rob!

above: tablecloth (wedding abstract)
October 2008
Photographic experiments continued, as material was gathered for upcoming chromedecay photo and video releases.

above: a section of Michigan Avenue in Ypsilanti
November 2008
Here's a favorite photo from November.

above: morning commute
December 2008
December ended with more Processing work and photography.

rndm4 – processing sketch from chromedecay on Vimeo.
above: rndm4, made in Processing

above: gym mat abstract
Looking foward…
Next up: looking forward to 2009!